Samui Beach Villas
Boutique Options
Over the past decade, Koh Samui has attracted an increasingly high end set of travellers
Set within the serenely sparkling waters of the Gulf of Thailand, Koh Samui is merely a one hour plane ride from Bangkok. Visitors can also access the island via a short boat ride from the mainland's Surat Thani province. Out of the three main islands in the region – Koh Tao and Koh Phangan are the other two – Samui has developed as the more boutique of the bunch, attracting more mature travellers and investors looking for a truly five star experience. Samui's airport also operates operates daily flights to regional hubs such as Bangkok, Singapore and Hong Kong, which are all home to a sizeable expat communities, traditionally a strong client base for the island's many luxury villas and homes.
Island Essentials
Getting to grips with the island's geography can help visitors to select the perfect private villa to suit their needs
Samui, Thailand's second-largest island, can be divided up into roughly three areas. The eastern side of the island tends to attract the greatest number of tourists and property investors. The majority of visitors make a beeline for busting Chaweng, a long white-sand beach that lies on the east coast of the island. While Chaweng may have begun as a dream destination for backpacker's, the area now boasts a wide selection of fine dining venues, luxury spas and boutique retail offerings. All along the beach, five-star hotels and resort have taken advantage of the lively atmosphere and multitudinous amenities.
Space for Serenity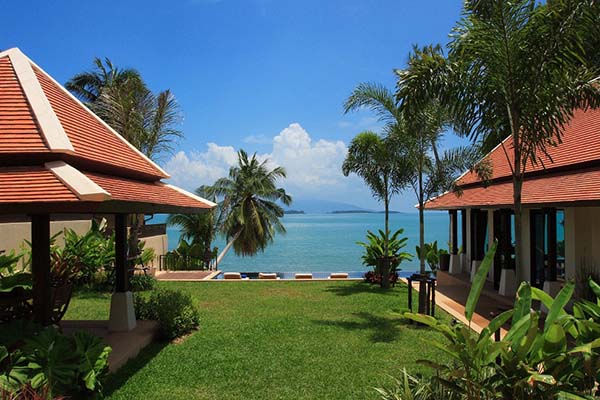 Destinations like Bophut and Maenam are ideal for visitors that want to get away from the hustle and bustle of large resorts
To the north of the island, attractive Bophut and Maenam, both fishing villages, offer a more laid back atmosphere. A select number of stunning private villas are scattered across the area, in addition to a selection of boutique restaurants, cafe, spas and shops that all cater to a sophisticated international crowd. As a result of convenient ferry access, locations on Samui's western coast, like Nathon, have also seen an drastic surge in the amount of high end development.
Five-star Facilities
The facilities on offer at many of Samui's private holiday villas are more than a match for the island's classiest resorts
As Samui has developed a decidedly upscale feel, the facilities offered in the island's many private villas have also become more and more sophisticated. A large number of Samui's holiday properties even boast their own outdoor and indoor pools, children's playrooms, fully-equipped gyms, outdoor dining areas, entertainment rooms with private cinemas and gaming stations, state-of-the-art home entertainment equipment and high speed internet throughout the property. A large proportion of the islands most luxurious villas also come with their own dedicated team of staff, that often includes a chef, waiter, driver, cleaner, butler, nanny and concierge services to make each guest's stay as relaxing and trouble-free as possible.
Posted by Wayne Hue